Hemp Seed Mini Mania Set - Skinny Dip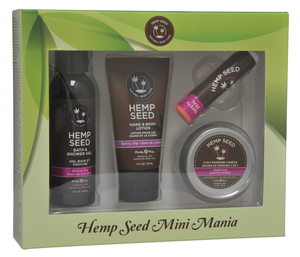 Quench your thirsty skin and leave it feeling healthy, radiant, and silky smooth wherever you go with the Hemp Seed Travel Kit Mini Mania Collection. The products in this collection come in convenient mini sizes, perfect for travel, and contain an ultra-moisturizing blend of Hemp Seed and other nutrient-rich oils to moisturize your skin in all weather conditions!
COLLECTION INCLUDES:
Hemp Seed Bath & Shower Gel, 1 fl oz.
Hemp Seed Hand & Body Lotion, 1 fl oz.
Hemp Seed 3-in-1 Massage Candle, 2 fl oz.
Hemp Seed Lip Balm, 0.15 oz.
Scent - Vanilla + Cotton Candy
Meet your new travel best friend! The Hemp Seed Mini Mania Travel Set includes all the products you need to keep your skin looking healthy, radiant, and well hydrated, no matter what the weather brings you. Each of the products in this Hemp Seed Mini Mania Travel Set comes in a compact size, ideal for travel, but packed with ultra moisturizing ingredients to help you keep skin healthy, well hydrated, and glowing. Best of all, it comes in three popular scents: Guavalava, Skinny Dip, and Isle of You. Try them all! They're perfect for gifts and for yourself.
Giving Back
As part of our commitment to the planet, Hemp Seed products are 100% Vegan, Cruelty-Free, and made in a solar powered facility in California. A percentage of every sale is donated to the nonprofit, Get Together Foundation, to help further their efforts in helping the homeless community and doing their part to help make the world a better place.
The Benefits of Hemp Oil
A result of cold-pressing hemp seeds, Hemp Seed Oil, or often referred to as "hemp oil", boasts several benefits when applied to skin, including excellent ability to moisturize and soothe. Additionally, hemp oil has anti-aging properties and is said to help reduce fine lines and wrinkles.
Canada-wide Shipping

Same-day Shipping

Secure Checkout
Love this?Check out these as well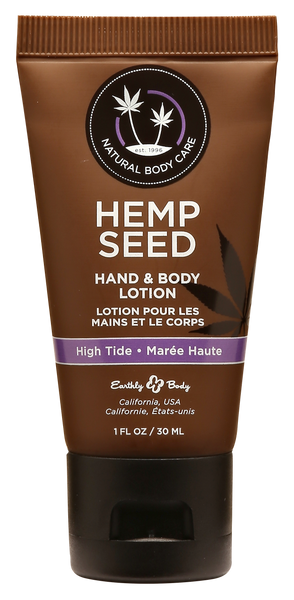 Hemp Seed