Joya Mia Sunset Collection - #02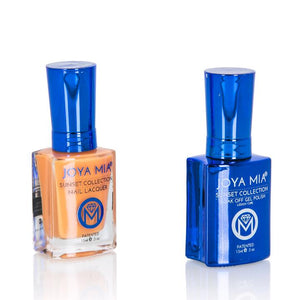 JOYA MIA® InSync®  is a luxurious gel nail color and matching nail lacquer.  
It goes on smooth as silk and looks stunning with everything from a sleek dress & hot boots to your favorite pair of jeans & fitted tee. 
Once carefully applied JOYA MIA® Gel polish, it won't chip or peel for up to 2-3 weeks. 
Apply like traditional nail polish with twist cap applicator after applying a base, cure for 30 seconds under LED lamp or two minutes (2) in UV Lamp, apply top coat, and you're ready to go!
Canada-wide Shipping

Same-day Shipping

Secure Checkout
Love this?Check out these as well
- Clearance - Last Chance -
- Clearance - Last Chance -
- Clearance - Last Chance -