UberChic Collection - 11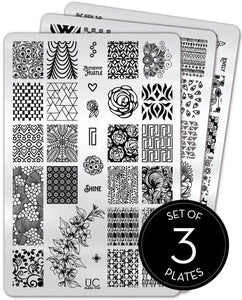 "Like a Boss" basically sums up this entire Collection. Make your nail art work for you with a Collection designed to fit all your nail art needs. From floral prints to boho chic patterns – this Collection is jam packed full of so many beautiful ways to express yourself. So take some time for fun and explore everything we have lovingly crafted just for you.
This Collection features three unique design plates carefully made to ensure almost any size nail is accommodated, it includes: UC 11-01, UC 11-02, and UC 11-03.
TECHNICAL STUFF:
The size of each plate is 9.5 cm by 14.5 cm and the plates in this collection have coordinating single images down the center and a few on the sides. Most designs are 17 mm x 21 mm and are built to cover edge-to-edge on even the largest natural nail size. Small nails left out? Never! These designs are crafted to not be so overwhelming or large that you can't see what is on your nail - even if it's tiny!
The designs are engraved on high quality stainless steel and can be used over and over again - never wearing out.
Your nail art designs can be applied using nail polish, a stamper, and scraper.
Canada-wide Shipping

Same-day Shipping

Secure Checkout
Love this?Check out these as well
- Clearance - Last Chance -
- Clearance - Last Chance -
- Clearance - Last Chance -