UberChic Collection - 17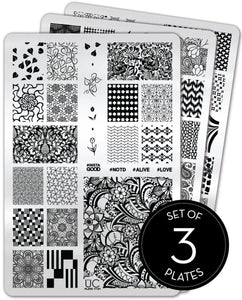 Check out the giant floral image that graces plate 17-02 alongside some epic water-marble-like images. Plus, some bolder elements and patterns were added to this Collection to give it it's own personality and flair. Go on - be dramatic!
The "2x" in the top right of plate 17-03 means that the image can be double stamped perfectly inside of itself. 
This Collection features three unique design plates carefully made to ensure almost any size nail is accommodated, it includes: UC 17-01, UC 17-02, and UC 17-03. 
TECHNICAL STUFF:
The size of each plate is 9.5 cm by 14.5 cm and the plates in this collection have coordinating single images down the center and a few on the sides. Most designs are 17 mm x 21 mm and are built to cover edge-to-edge on even the largest natural nail size. Small nails left out? Never! These designs are crafted to not be so overwhelming or large that you can't see what is on your nail - even if it's tiny!
The designs are engraved on high quality stainless steel and can be used over and over again - never wearing out.
Your nail art designs can be applied using nail polish, a stamper, and scraper.
Canada-wide Shipping

Same-day Shipping

Secure Checkout
Love this?Check out these as well
- Clearance - Last Chance -
- Clearance - Last Chance -
- Clearance - Last Chance -