UberChic Mini - Feeling French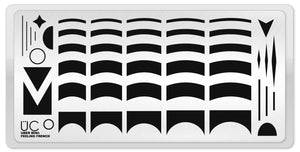 A classic French Tip plate that makes making that essential classy nail pattern sooo easy! Worried about length? If your nails are longer - just line up the bottom curve of the design with the natural skin curve of your nail bed, then paint the remainder of your nail with the same polish color. Bonus shapes and styles along each edge of the plate for a truly one-of-a-kind look!
Technical Stuff:
The size of this plate is 6 cm by 12 cm. Most designs are 17 mm x 21 mm and are built to cover edge-to-edge on even the largest natural nail size. Small nails left out? Never! Our designs are crafted to not be so overwhelming or large that you can't see what is on your nail - even if it's tiny! 
The designs are engraved on high-quality stainless steel and can be used over and over again - never wearing out.
Canada-wide Shipping

Same-day Shipping

Secure Checkout
Love this?Check out these as well
- What's New?! -
- What's New?! -
- What's New?! -