UberChic Plate - Let's Get Lost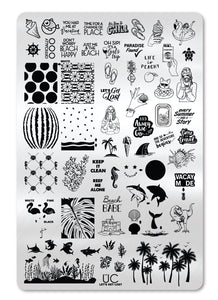 Let's Get Lost

Presenting the perfect way to get beach-ready nail art in a snap! Whether you're ready to float away on a lazy river or find your own kind of paradise - our all-new vacation-ready plate has got you covered. Mark yourself as officially O.O.O. and elevate your manicure with the perfect beaching nail art.

Sayings on this plate include:
You Had Me at Vacation
Time for a Change of Place
It's Time to Chill
Don't Worry Beach Happy
Just Me & The Beach
Oh Sip! Girls Trip
Paradise Found
Life is Peachy
Let's Get Lost
Every Summer has a Story
And Away We Go
And So The Adventure Begins
Time to Travel
Keep It Clean
Reef Me Alone
Vacay Mode
Beach Babe
Enrich your summer nail designs with these unique and intricate nail stamps.
TECHNICAL STUFF:
The size of this plate is 9.5 cm by 14.5 cm and it has coordinating single images down the center and a few on the sides. Most designs are 17 mm x 21 mm and are built to cover edge-to-edge on even the largest natural nail size. Small nails left out? Never! These designs are crafted to not be so overwhelming or large that you can't see what is on your nail - even if it's tiny!
The designs are engraved on high-quality stainless steel and can be used over and over again - never wearing out.
Your nail art designs can be applied using nail polish, a stamper, and scraper.
Canada-wide Shipping

Same-day Shipping

Secure Checkout
Love this?Check out these as well
- What's New?! -
- What's New?! -
- What's New?! -