Survival Guide for this Holiday Season!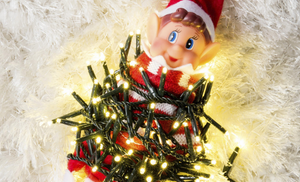 The sound of Christmas music is playing in department stores, trees are lit up with fantastic light displays, and the shopping frenzy has begun. That means many more people are treating themselves to your services, and your regulars may even be indulging in a few of the extra services you offer.  This can make for a very hectic schedule and a very tired you!  I am going to share with you what I do at this time of year to prepare myself, my clients, and my family (after all, they haven't abandoned me yet after years of this craziness) to help it go a little smoother.
Family First
I thank my family, and especially my husband for their support and patience during this time.  After all, they will be cooking and cleaning up after themselves more than ever.  They are going to be exhausted!! Ha Ha!  As much fun as I am sure that is, I do try to have a few prepared meals in the freezer to pull out in an "emergency" for those days when they need a break. Next, we decide as a family what time I will block off for family and our Christmas holidays.
Taking Care of Your Loyal Clients
Back in September, I have the conversation with each of my clients and tell them the benefits to booking now for Christmas to make sure they get in.  The reason for this is that there is an influx of new clients that would like to book an appointment, and I want my regular clients to have first pick of what is available. After all, they have been with me for many years, and they deserve that.
In October I start reminding them that if they plan to have an exceptionally artsy set for the occasion to make mention of it so I can schedule enough time for their visit, so they get the nails they want!  *Having them send a photo is also good so you know what you are in for and can prepare!
 Stock Up and Be Prepared
I go through my inventory and make sure I have enough product to get me through. (This includes coffee and snacks...at this time of year this is equally important!)  I do NOT want to run out of something in the middle of a service and need to substitute or even reschedule due to my lack of preparation.  I go through all of my stamping plates, pulling out the seasonal items and placing them where my client can look at them while I prep her nails. I then go through all my seasonal glitters and colors and reorganize it all so that they are up front and easy to grab. 
Retail Time
Stock up on RETAIL!!  This is the time to make some extra cash that you won't have to work hard for!  Invest in smaller items that are great for stocking stuffers (These items add up fast. Take advantage of it!), and items that your clients would like to splurge on for themselves. Ask your local supplier what they anticipate being hot sellers and fast movers, and get some! Buy some for yourself so you know what you are promoting.  I find that if I have used a product, I don't SELL it. I just share my input, and it sells itself.  Put together some baskets in pretty wrapping. These items go fast as they look pretty, and the thinking is done for them.  Get creative with it! 
Time for Giving Thanks
Finally, have fun during this time!  This is often the most fun and artistic time of year.  I thrive here!!  Remember to thank your clients.  I always give a thank you gift at this time of year.  Sometimes it's homemade and sometimes it's a cuticle oil or a lotion and a card.  You choose, but in the spirit of giving, this speaks volumes and helps build lasting relationships.
Communication is the Key
Below is something I wrote to post in the salon and on social media. Feel free to use it or make changes to make it more your own, but I have found it helps tremendously.
Tips to make your nail appointment go smoothly this Holiday season:
- Be on time. This is a busy time of year and appointments are tight. You want to make sure you have enough time to get that little splash of holiday cheer on your nails.
- If you are ill, please be considerate of others and reschedule your        appointment as this could create loss of wage if your technician falls ill. This adds a whole new level of crazy to this already crazy time of year!
- Know what you would like to have done ahead of time or send a picture of what you would like to ask if there is enough time to do what you ask. We all aim to please and want you to leave happy!
- Please do not bring your children. As much joy as they can bring, this is a hectic time of year. Everyone can use a moment to relax and enjoy some quiet time away from the holiday bustle.
- If you need to reschedule your appointment, please try to give as much notice as possible. Know that accommodation might not be possible, and we will try our best to do so; however, this season is busy and often over-filled.
- Please be patient with your technician. She/he probably skipped lunch to fit everyone in, is surviving off breakfast, and will likely not make it to dinner with their family.
- Lastly, Thank you all for your continued support!  We wish you and yours a Merry Christmas and a Happy New Year!!
by  Sheila Hatch, nailbasics Education Leader