What is the Earning Potential of a Nail Technician?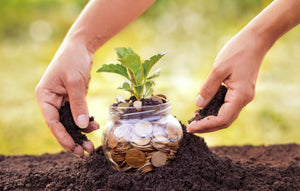 What is a nail technician salary? How much can I make? These are quite possibly the most commonly asked question from those considering a career as a nail tech. Unfortunately the answers to these questions are not simple. There are many factors that can affect your earning potential.
Many people begin their careers as a nail technician with the belief that it is easy work. It doesn't require a long time commitment to gain the skills, you are able to be your own boss by establishing your own business, you don't have to work the typical 9-5 job and, my personal favorite, anyone can do it because how hard can it really be?
It would seem like the short answer is simple...how much you are willing to work minus the cost to do so should give you a quick answer. The truth is that the reality of becoming a nail technician involves a great deal of hard work and patience. How do you calculate the type of work you do with the number of hours you work? Tangible factors such as rent, utilities, etc. can be calculated fairly quickly but there are intangible factors such as skills, types of services and the value of your experience that are difficult to put a price on.
I can clearly state that I am not a mathologist and I cannot give you a definitive answer. So….you better sit down for this...every situation is unique and varied.
Consider the many options in becoming a nail technician. Do you want to earn a salary, be on a wage, or earn a commision? Should you work in a salon, rent, or have a home-based salon?
You can earn a salary being at a salon, renting a space, or having your own business at home.  With that comes the variables to what it really costs to run a business and what your earning potential can be.  What is the cost/hour to run your business?  These are your overhead costs that need to be considered.  What is included?
(Rent, product, insurance, hydro, power) ÷ hours worked per month
This tells you what it costs to run your shop per hour.  Do you then pay yourself an hourly wage in that as well?
If you work from home, you need it divide the cost of rent/mortgage, insurance, hydro, power (the costs it takes to run that space) by the percentage of the square footage of your salon.  Only then can you continue to divide hours worked and if you have taken an hourly wage in that.
Working in a salon where you are paid hourly and may earn commission may seem like a simpler choice.  But do you buy your own product or are they supplied? What other duties are you expected to do at the salon? What is your commission percentage?
Have I lost you yet?  Bet you are glad I made you sit down!  If you are feeling overwhelmed, you can calculate everything here. While I can't do the calculations for you, I can offer a few nuggets of wisdom to help build the best business you can.
Knowledge is power.
Continuing your education throughout your career is just as important as your introductory course <link to PNTP Course info> in becoming a nail technician.  Whether you want to refine your skills, work on improving your service time, keep up with industry trends like nail art, nail shape, or techniques, or learn tips to running and building your business, all of these classes are available <link to nailbasics Class Schedule> and can contribute to a higher income potential.
What does all this mean?
Shortening your service time can equal more appointments per day.

Offering nail art can add an extra cost element.

Staying current shows growth, flexibility, and commitment.

The potential to be independent, successful business owner.
Be a Jack of a few trades.  Master them.
Learning another skill like pedicures <link to pedicure course info> or waxing can add value to your client experience and creates further earning potential.  By offering additional services to your existing clients, you can save yourself the hassle of filling your open appointment slots with new clients and possibly the cost of advertising to find these clients.
Being a one-stop shop for your clients can be extremely valuable for both you and your clients.It could be that what you are offering is something a client already regularly schedules elsewhere or has wanted to try.  Since you have already built solid relationships with your clients, they will trust you and feel comfortable booking with you.
It is important to work at a manageable pace and develop your business without compromising the quality of your work. Do not take on more than you can handle and make it known that you are passionate about the work you do. When you genuinely love what you do, you will never compromise the quality of your work.
While all of this may seem like a lot to take on to be successful as a nail tech, know that it is possible. This industry has a lot of options and opportunity. You know what you are capable of.  Use that to your advantage and let that be your drive. What you choose to do with your skill directly determines how profitable you can be.
So, what is a nail tech's salary or wage you ask?...  It truly is up to you!
nailbasics
R